Some of the benefits of riparian planting include:
Protects riparian systems from livestock. It acts as a deterrent from any cattle that could destroy or pollute its waterways.
Filters the water. Riparian plants help clean the water running through your property.
Prevents erosion. It minimizes erosion problems, especially if you plant native trees such as cabbages, it helps strengthen the land.
Filters pollution. Riparian systems can carry pollutants along the way, plants help filter out most of these pollutants.
Moderates water flow. Using a riparian system moderates flow of water in your property, which helps prevent flooding.
For more information see: https://www.dairynz.co.nz/environment/waterways/planting-waterways/
At Forever Green we specialise in growing native riparian plants. We can offer farmers, lifestyle block owners or commercial clients a 'special' deal on these plants. Our Landscape design team will give you good advice on the project and can create any riparian design to suit you and your property.
If you need someone to construct your riparian zone then look no further, our earthworks planting and maintenance teams are some of the best around. You can make sure Forever Green will construct your riparian zone to the highest of quality.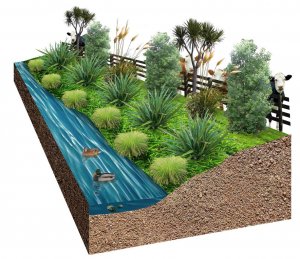 Start the process today!

"Once again, thanks for the lovely tidy job" Gilly, West Melton "We think you people are fantastic!" Victoria, Merivale